Pawn Tools at Avondale's
Favorite Pawn Shop: 
West Valley Pawn and Gold!
Time to clean out the old tool shed! If you have tools lying around don't wait around, bring them in today.  Avondale businesses and locals talk getting about on all working power tools you may have.  Our pawn shop in Avondale is here to help put money in your pocket when you pawn tools with us.  We loan cash on all types of power tools like, drilling, cutting, shaping, sanding, grinding, polishing, painting, and heating tools.  We will lend you the most cash for your power tools whether it is electric or pneumatic. All you need is your merchandise and a valid government issued ID in order to pawn Tools with us in West Valley Pawn and Gold. 
Pawn Tools to get money fast!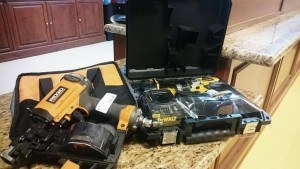 We offer pawn loans on all brands of power tools; however, name brand tools typically have the highest resale value.  These name brand tools we like best include Milwaukee, Black and Decker, Draper, DeWalt, MAC Tools, Panasonic, Ryobi, Stihl, Hitachi, Wolf, Rubi, and Snap-On Tools.  However, if your tool has value, WE CAN MAKE A LOAN!

When you Pawn Tools, it's just like a Pawn Loan
The pawn loan is good for 90 days on tools as it is with all items.  This is governed by Arizona law.  Throughout those 90 days, you have no payment requirements on your tool loan.  You're more than welcome to pay off the entirety of the power tool loan at any time with no penalty, however you may also opt out of paying and allow the items to revert to the store.  If at the end of the 90 days you're not ready to pay off the borrowed amount, you can also pay the interest and get an extension for another 90 days on the power tool loan or, if you are short, you can typically call the store and get an extension for a few more days just by asking.  Don't consider more expensive Payday Loans, personal loans, or Auto Title Loans, get a Tool Loan in Avondale at a lower cost using your tools to secure the loan.  With a pawn tools cash loan, you are not limited by your credit score, an application, or monthly fees.  You just need a tool and valid ID!
We do more Tool Loans in Avondale than anyone else, but we also serve Goodyear, Sun City, Surprise, and Buckeye.