Pawn Paint Sprayer
If you have invested your time and money into paint spraying equipment, it is not something your willing to sell.  Even in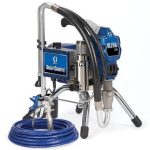 times when the plumbing in your home needs to be fixed.  Although, you do have options still open to you.  For instance, if you pawn paint sprayer, you can get the cash you need now, pay off the loan and have it back in 90 days or less.  Whether you have an airless, HVLP or compressed air sprayer, bring it to West Valley Pawn & Gold.  Time and again, we offer the most cash possible and turn it into a secured cash loan to our customers.  Come on in and see what offer we have in store for you!
Brands of Paint Sprayers That Can Get You the Best Offers
Valuation to Pawn Paint Sprayer
Our assessments of paint sprayers are free of charge at West Valley Pawn & Gold.  In addition, they are based on three factors.  First, the overall physical appearance of the equipment.  Because the more wear it shows, the value lessens.  After that, we test to confirm it's in good working condition, and all the accessories and attachments are present.  Finally, we check what the current market value is of your sprayer's make and model.  Once all three factors are taken into consideration, we will present our cash offer to you.
Tips to Make Sure You Get Best Cash Offer Possible:
Make sure your sprayer is thoroughly clean and is in its best possible condition.
Gather together all of the accessories and attachments that were included at the time of purchase.
Bring the sales receipt and original box it came in as well.
Bring along any accessories bought separately for the sprayer and bundle them together.
Accepting Our Cash Offer
Once a cash offer is accepting, we will need a few things to complete the paperwork for a pawn loan.  We will need your  valid and current Arizona Driver's License or ID, then a few signatures on the loan agreement.  After that, we will count out our offer in cash to you.  The entire process can take as little as 10 minutes spent to get the cash you need!
Pawn Loan Terms
All pawn loans are for a total of 90 days.  During the loan, your paint equipment will be kept safe and secure in our locked vault.  You are welcome to come in and pay off the loan in full at any time.  There are no penalty fees are charges added for early payment.  However, if you are able to satisfy the loan before the 60th day, we will deduct a redemption discount from the principal plus interest charges.  Therefore, lessening the out of pocket cost to have your equipment back in your possession.
Although our pawn loans are for 90 days, we can work with you if you need more time to pay it in full.  With paying only the interest accrued to date, we can rewrite the principal amount for another 90 day pawn loan.  Because we are looking to help ease your financial stress, not cause you more.
Whether you are looking to buy, sell or pawn valuable items, come in and see us at West Valley Pawn & Gold.  pawn shop continues to provide Avondale, Goodyear and Litchfield Park with multiple options to get the cash they need and fast!