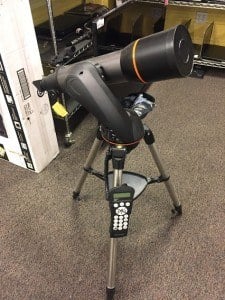 West Valley Pawn and Gold will pawn hobby devices for the Hobbyist in need!
Look! In the night sky! It's a comet! No, it's a constellation! NO! It's MONEY when you pawn hobby devices like telescopes here at West Valley Pawn and Gold! Pardon the old pun, but we at West Valley Pawn and Gold love to provide opportunities for hobbyists to pawn with us. One such possibility comes from telescopes, microscopes, and even binoculars. So if you have a telescope collecting dust, binoculars not seen use or microscope gathering its OWN microbes (after cleaning it off), let us have a look and you could get money faster than a falling star!

Are Telescopes all you take? Do you take other hobby items?
We like to focus on Telescopes but that's not all we take. As we stated before, we also pawn microscopes and we pawn binoculars too. These great hobby items are what we love to see, but when you pawn hobby devices with us, there are some ground rules. First, make sure to have all the accessories to get the maximum value to your pawn loans. Another plus is having the original box (near new condition) and receipt from your original purpose. The box helps us to store the unit while you have you are paying your loan off. The receipt helps us authenticate your telescope/binoculars/microscope.  Keep in mind, they are not deal breakers, but if you want the MOST from your pawn loans, we need the box and receipt.
What are Pawn Loans?
Pawn Loans are simply a loan of cash we provide customers and they, in turn, pay us back after a set period of time. Our Pawn Loans range at 90 days. When you have the money you can pay us back, with the interest, at any time within that 90 day time frame. If you cannot, or just simply want to leave the items here, just walk away. We'll use the items you gave us as a means to pay the loan off. If you have further questions, simply follow the link here or contact us directly. We will be more than happy to assist you.
For over 10 years, we have served the Western Valley with our great loans, and continue this tradition when you pawn hobby devices with us. Visit the store that proudly serves the City of Avondale, Sun City, Surprise, Buckeye and all points WEST: West Valley Pawn and Gold!