When you are in need of a decent amount of cash, and quickly, gold loans are a way to go!  At West Valley Pawn & Gold we strive to put the most cash possible in your hands every time! Because it's important to get the most cash possible in a time of financial stress, and we understand that! 
What Gold Qualifies for Gold Loans
West Valley Pawn & Gold offers pawn loans on any and all forms that gold comes in.  In addition, we can bundle multiple pieces or a collection of gold under one pawn loan.  Therefore, you will only have one pawn ticket to keep track of and able to meet your financial obligations easier. 
We offer gold loans on the following valuables:
Gold Bullion

Ingots, Nuggets, Rounds & Bars

Gold Jewelry

Bracelets, Rings, Earrings, Necklaces, Brooches, Pendants
Watches

Gold Coins
Dental Gold
Scrap Gold 
How Much is Gold Worth?
How much money you can get for your gold will depend on how much you have and its value. The value of gold is based on 3 factors. Its quality, the weight and the current market spot price.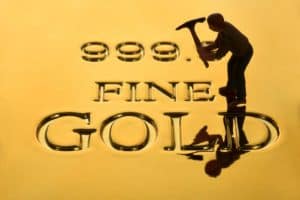 Whether you have gold rounds or gold jewelry, the purity of the gold is vitally important to the appraisal.  Because the purer the gold, the more value it holds.  Gold's purity is measured by karats, or 24 parts marking its percentage.  For instance, 24k is 99.9% pure gold, while 14k is 58.3% pure gold.
Therefore, gold that has been melted and distributed to make bullion or jewelry, have a hallmark stamp indicating their purity.  Furthermore, this stamp is used as a starting point for testing.  In most cases, it minimizes the time spent on testing, due to immediate confirmation.
After that, the gold is placed on the scale and the spot price is confirmed as well.  As a result, our associate will be able to present the best cash offer possible to you.
*All valuations of gold are free of charge and are under no obligation to accept our cash offer.
Finalizing Gold Loans & Terms
Once a cash offer is accepted, we will need a few things to finalize the agreement.  First, we will need a valid and current Arizona ID or Driver's License.  Followed by a few signatures confirming the agreement, interest charges and date the loan is due.  After that, you will have the cash counted out and in your hand. This process can be completed within 10 minutes or less in most cases. 
Our associate will seal your gold in a bag and tag your it with the ticket number,  Once it is tagged it is stored in our secured vault for the duration of the loan.  
Gold loans at West Valley Pawn & Gold, as with any pawn loans, are for 90 days.  These collateral loans are based on your valuable's market value.  It is important to note to stick to the amount you need if the offer is more than you need.  Because the interest accrues daily and can add up quicker than you realize.  In addition, we pro-rate the interest accrued to date.  The sooner you pay the less out of pocket cost to you.  
Although, there are circumstances that cannot be foreseen, and may make it impossible to pay within the 90-day term.  With paying only the interest due, we can extend the loan for another 90 days.  Or you can choose to relinquish your valuables to our store.  This will release you from any further obligations to pay the loan.  
Other Services We Provide
West Valley Pawn & Gold is more than just a pawn shop.  In addition to being the pawn shop to choose whether you want to sell, pawn or buy valuables, we have more services we provide: